"The first contemplation that should be done before meditation begins is "Why am I doing this? What do I want?" It is helpful to know — even if sometimes the answers may appear less than noble! At least then we have an opportunity to redefine our aspiration, to align it with universal principles which provide the maximum support to the effort we are making.
What are these universal principles? First and foremost, there is the concept that consciousness is the very fabric of all manifestation, pervading all of the universe, including yourself. The characteristics of that universal consciousness (before conditioning obscures and distorts them) are spaciousness, luminosity and awareness. People call this consciousness God or Buddha-nature. I like to use the word Universe." – Bonni Ross on Refuge
Bonni Ross is based in Roberts Creek, BC and currently spends half the year teaching in Nelson, New Zealand.
Since 1978 she has been a creative catalyst for study and practice of the philosophical, theoretic and meditative foundations of Buddhadharma, as well as providing practical and pleasurable methods for increasing awareness, kindness and wisdom in daily living. Bonni guides individuals in developing more focussed and skilful meditation and leads retreats for depth unfoldment.
Conscious development of spiritual community has been a lively part of the engagement she, with her partner Matthew Eades, has with students in Canada and New Zealand. Bonni and Matthew have extensive experience working in the world and this, plus idiosyncratic senses of humour, informs a practical, integrated approach to committed practice. "The world is my cloister" is the motto of Sunshine Coast Retreat House.
Bonni began exploring the teachings of liberation in the early sixties. In the mid 70's she met her principal teacher, Venerable Namgyal Rinpoche, whose direct, eclectic teaching and example are central to her life. The encouragement of His Holiness the 16th Karmapa, teachings from many great Buddhist masters, and innovative westerners like Fritz Perls and Buckminster Fuller have had direct influence, as well as artists, composers, scientists, poets, dancers, philosophers and mystery writers too numerous to mention. Her inspiration comes from "ordinary" people who demonstrate exceptional courage and compassion in the midst of great suffering.
Contact: www.retreathouse.bc.ca
Email:  rhouse@telus.net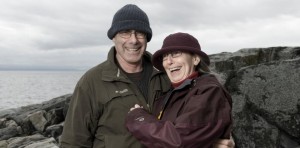 ---
Teaching articles by Bonni Ross are available on this website, the Wangapeka website, and you can also read her teachings on the Sunshine Coast Retreat House website: www.retreathouse.bc.ca